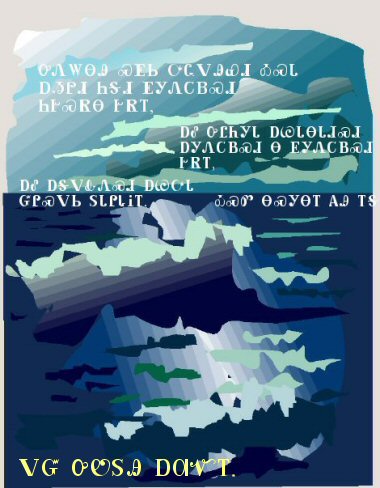 Amegwo'i - Sea
doyu uwoduhi - how beautiful it is
Serenity Prayer
God Grant me the serenity to accept the things I cannot change,
ᎤᏁᎳᎾᎢ ᏍᎬᏏ ᏅᏩᏙᎯᏯᏗ ᎣᏍᏓ ᎠᏱᎵᏗ ᏂᎦᏗ ᎬᎩᏁᏟᎲᏍᏗ ᏁᎨᏒᎾ ᎦᏒᎢ.
Unelanahi sgvsi nvwadohiyadi osda ayilidi nigadi gvginetliyvsdi nigesvna gesvi,
The courage to change the things I can,
ᎠᎴ ᎤᏟᏂᎩᏓ ᎠᏊᏓᎾᏓᏗᏍᏗ ᎠᎩᏁᏟᏴᏍᏗ Ꮎ ᎬᎩᏁᏟᏴᏍᏗ ᎨᏒᎢ,
ale utlinigida aquudanadadisdi aginetliyvsdi na gvginetliyvsdi gesvi,
and the wisdom to know the difference.
ᎠᎴ ᎠᎦᏙᎲᏁᏍᏗ ᎠᏊᏅᏓ ᏳᎵᏍᏙᏏ ᏚᏓᎴᎿᎥᎢ.
ale agadohvnesdi aquunvda yulisdosi dudalehnavi.
Just for today!
ᎣᏍᏛ ᎾᏍᎩᎾᎢ ᎪᎯ ᎢᎦ!
Osdv nasginai gohi iga!
---
A Medly of Blessed Words
-ᏍᏆᏁᏝᏅ. Sqwanehlanv
- My creator
-ᏍᎩᏯᏁᏝᏅ. Sgiyanehlanv
- Our creator
-ᏣᏓᏙᎵᏣᏘ. Tsadadolitsati
- You are merciful.
-ᏍᎩᏙᎵᎨ. Sgidolige
- Forgive me.
-ᏍᎩᏍᏕᎳ. Sgisdela
- Help me.
-ᎬᏯᎵᎡᎵᏤ. Gvyalielitse
- I am thankful to you.
-ᎠᎩᏟᏂᎩᏛ. Agihlinigidv
- I am strong.
-ᏙᏳ ᎤᏬᏚᎯ ᎬᏅᎢ. Doyu uwoduhi gvnvi.
- My life is beautiful.
-ᎾᏍᎩᏉ ᏫᏂᎦᎵᏍᏓ. Nasgigwo winigalsda.
- Let it be that way.